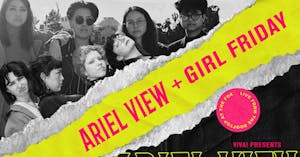 Ariel View
Rooftop at the Fox Theatre Pomona
Pomona
,
CA
$13.00 - $15.00
Tickets At The Door
Ariel View's album release tour! THIS SHOW HAS BEEN MOVED NEXT DOOR TO THE ROOFTOP AT THE FOX THEATRE! DOORS 8:00PM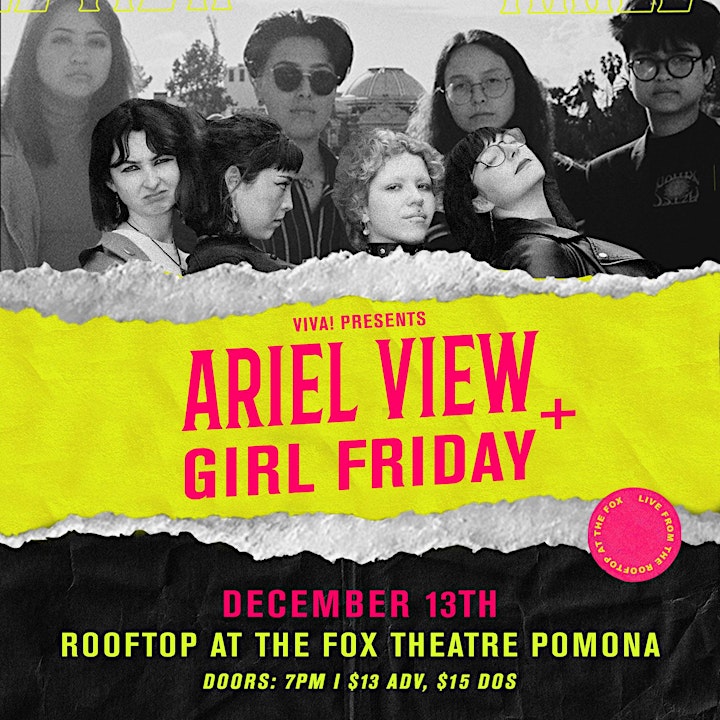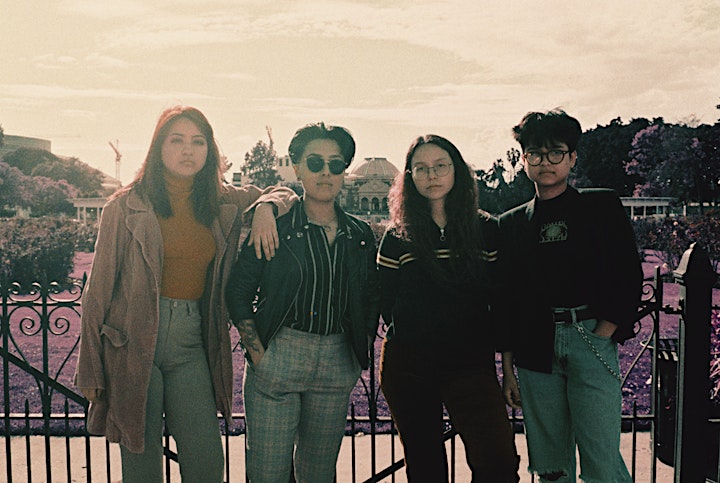 On their Epitaph debut Until My Lungs Are Cleared, Ariel View channel the most complex and messy emotions into 11 immaculately arranged indie-rock songs. Tapping into the kinetic energy they first revealed in playing backyard shows all around the Inland Empire, the Ontario, California-based band blends punk and surf-rock into a finespun sound that's viscerally charged yet gracefully melodic. And in their lyrics, Ariel View share stories of drinking too much and missing the wrong people and dreaming of running thousands of miles away, with sisters Harmonie and Heaven delivering each of their lines with both raw sensitivity and defiant self-assurance.
Recorded at Route 2 Recording Studios in L.A. and produced by Joe Reinhart (Hop Along, Remo Drive), Until My Lungs Are Cleared takes its title from a song that Harmonie wrote when she was 14-years-old. With its gauzy guitar tones and languid rhythms, the track unfolds in a delicate reverie that hints at Ariel View's psych-rock-inspired sensibilities—a dream state that's disrupted by the palpable pain of Harmonie's lyrics (e.g., "I'll forget you one day so I could finally sing all these songs/That remind me of you"). And while Harmonie describes "Until My Lungs Are Cleared" as "a song about being a bad kid, and going out with friends and partying and just wandering around," Nadine notes its intense emotional impact. "It's this horribly sad breakup song about how you can't live without this person, and you're just waiting until the day when you're okay enough to sing the song you used to sing together," she says.
On "Friday Nights" veers into a much grittier mood, taking on a breakneck momentum as Harmonie reflects on the ending of a two-year relationship. "I watched that whole relationship and saw how toxic it was—it made me so sad to see my sister go through that," says Heaven. "When I heard the lyrics to 'Friday Nights,' I knew what every line meant. It hits so hard because it comes from a very real place."
One song later, on "Summertime," Until My Lungs Are Cleared offers up an anthem built on bouncy beats, airy harmonies, and self-possessed lyrics ("Me and my friends will make it every night"). But with Harmonie pointing out that "most of these songs are breakup songs," the album assumes a feverish urgency on "Midnight"—a track that first appeared as a stripped-back acoustic number on Ariel View's 2015 self-titled debut, then emerged as a lo-fi demo on 2017's Leo. "'Midnight' is interesting to look at, because it's gone through so many stages," says Nadine. "On the first version, Harm is way younger and she's got this little-kid voice, and now with the new version you can really see the growth of the band, and what Ariel View is today."
Founded in 2014, Ariel View began as a two-piece featuring Harmonie and a former member who left the duo soon after they'd released their debut. "When that happened my dad told me I should have Heaven join," Harmonie recalls. "She was only 12-years-old at the time and I was like, 'I don't want this kid in my band'—but then she started playing with us, and it was actually really good." (Both lifelong musicians, the Martinez sisters have played in a number of cover bands with their father—including a Smiths cover band and a Beatles cover band—with Miranda and Nadine sometimes also joining those groups onstage.)
As they began playing more shows—and shaping a sonic identity largely inspired by alt-rock bands like The Strokes and The Growlers—Ariel View cycled through many guitarists and drummers, eventually bringing Nadine into the fold. "One of their former drummers is a coworker of mine," says Nadine, who works at Sam Ash Music. "The band did a photo shoot and I thought they looked cool, so I got on Instagram and DM-ed them like, 'Hey, can I be in your band?'" Within a week of hearing back, Nadine learned all of Ariel View's songs and met with them for a jam session, then immediately joined as their drummer. Not long after that, they found their lead guitarist in Miranda, who played in a local band called MoonFuzz. After admiring her guitar skills for months on end, Heaven received an Instagram message from Miranda, asking if she wanted to get together and play. After a few jam sessions, Heaven asked Miranda to join the band. With their lineup solidified at last, Ariel View landed their deal with Epitaph soon after the release of Leo, and set to work on Until My Lungs Are Cleared at the start of 2018.
Over the years, Ariel View have gone from playing backyard parties to taking the stage at festivals like Top Acid Fest—where, at the 2018 festival, the band dealt with a bomb scare during their set. "There were a lot of skinhead punks that year, and somebody brought a fake grenade," says Nadine. "The SWAT team showed up and there were helicopters everywhere, and Harm and I just looked at each other like, 'Fuck it, let's just play through it—if we die, we die.' But we didn't die, and it was great."
As a queer-identified band, Ariel View are passionate about supporting and empowering the LGBTQ community, and creating an inclusive space at all of their shows—a spirit of solidarity that deeply informed the songwriting on Until My Lungs Are Cleared. "We've had a lot of people come up to us and tell us how our songs have helped them feel more comfortable with being themselves, which is a really great feeling," says Harmonie. "I know that I personally go to music to feel like someone else understands what I'm feeling, and that it definitely relieves my anxiety. So if our music can make other people feel better and a little less alone, that would be the best reward."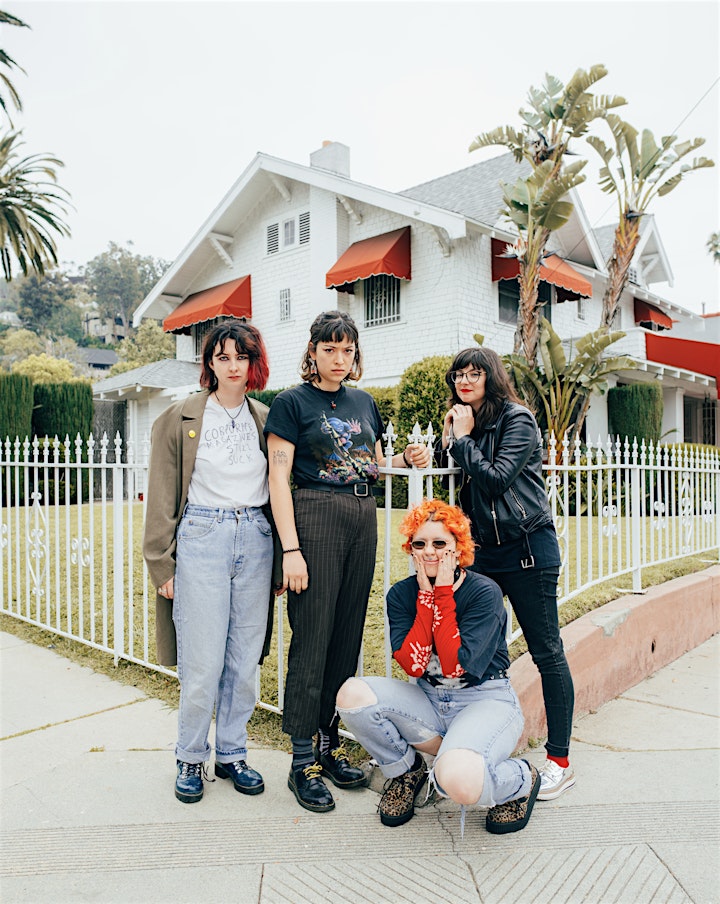 Bonded by an intense love of Jack Black and a distrust for anyone who doesn't respect Courtney Love, Los Angeles-based foursome Girl Friday proudly draws inspiration from untraditional places. Guitarists Vera Ellen and Sierra Scott, bassist Libby Hsieh, and drummer Virginia Pettis are painfully aware of how prescribed labels can limit expression, and they resist traditional categorization in all forms. In their refusal to be confined by one genre, they approach songwriting as a collective process that allows each of their musical influences to be heard. All four members provide lead vocals, adding to the confusion of sound guys who call them a "girl band" and verbally wonder why they're all carrying instruments.

Girl Friday's writing is heavily influenced by their lives in Los Angeles, where they are constantly exposed to the overlap between genuine self expression and socially motivated performance. Although their songs capture diverse flashes of inspiration from sober lucidity to venomous distortion, they share an affinity for biting social critiques and introspective vulnerability. They refuse to dull their sensitivity to appear more palatable, and in doing so even their more tender moments match the urgency of their screams.

Venue Information:
Rooftop at the Fox Theatre Pomona
301 Garey Ave.
Pomona, CA, 91766