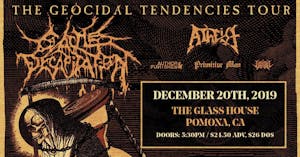 Cattle Decapitation
The Glass House
Pomona
,
CA
$24.50 - $26.00
Tickets At The Door
Doors 5:30pm!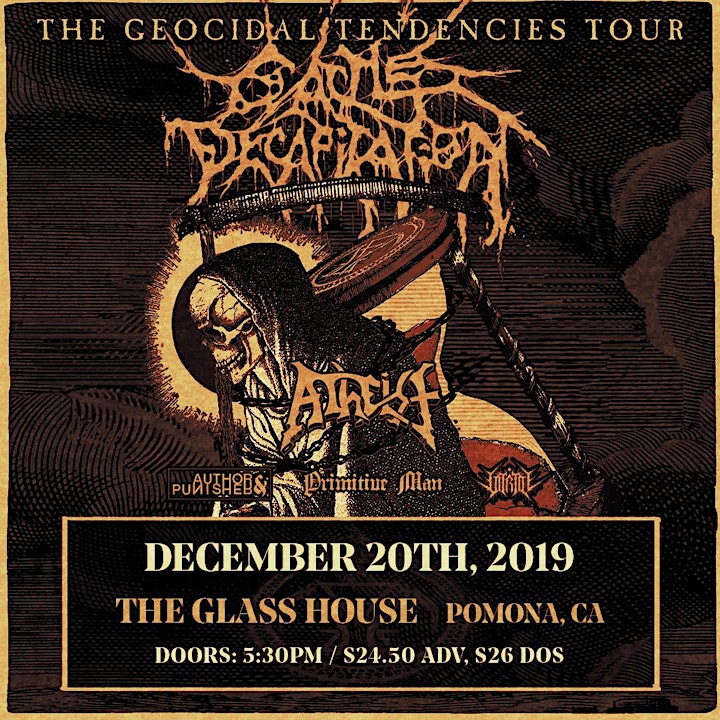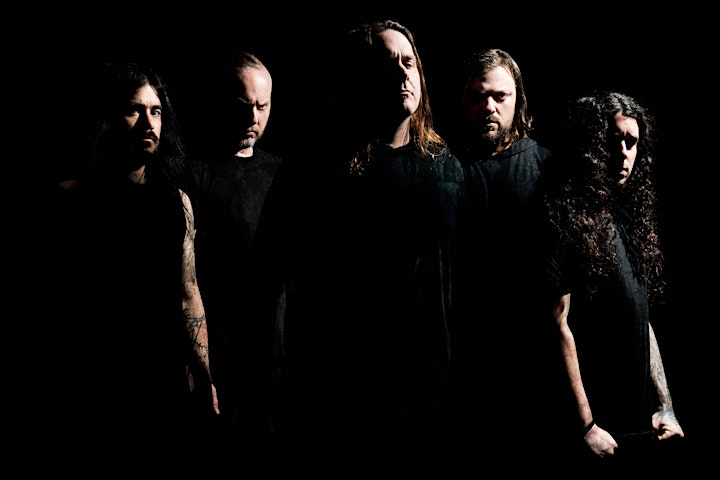 Compromise is not a concept Cattle Decapitation are willing to entertain. Ever. Over the course of nineteen years and six full-lengths the San Diego quartet have more than proven this, defining themselves as one of the most vital, brutal, and relentless forces in extreme music, and with The Anthropocene Extinction they have delivered a volatile, apocalyptic beast that is as hideous as it is compelling. "I feel that something rare happens with our band in that we get better and better with each release rather than going in the opposite direction, which happens to a lot of bands," states vocalist Travis Ryan. "As we get older we feel we have less and less to lose, which is freeing, and we really want to go as far out on a limb as we can without losing the extremity that has always driven us."With 2012's Monolith Of Inhumanity Ryan, guitarist Josh Elmore, bassist Derek Engemann and drummer Dave McGraw delivered a sledgehammer blow, maintaining their position at the most violent end of the death metal spectrum yet expanding their sound, allowing a little more melody in without losing any of their intensity. As always tied together by a central concept, Ryan's bleak lyrics bluntly illustrated the fate of the human race if allowed to continue pillaging and destroying the planet. With The Anthropocene Extinction he extrapolates on this subject, looking back at the world in the aftermath of such ecological and environmental devastation, with its focus largely centered on the Pacific Ocean. "The Anthropocene Era is the era that humankind has inhabited, and it encompasses all of the ages that have come and gone during that period, and the record focuses on how we have managed to bring that era to an end. As our technology has advanced we have degraded the Earth. When you look to the oceans the footprint we have left comes in the form of all the junk and plastic that has made it out there because we let that happen, and the effect that has, because when you start breaking down eco-systems it's a domino effect and will one day end up doing us in. The Anthropocene Extinction is set in the world that we destroyed, and it's certainly the most depressing record I've written."Of course, rather than taking such themes and applying them to introspective, navel-gazing music they weld them onto a soundtrack of all out savagery. Dominated by their blistering death-grind attack, shades of caustic black metal seep in across the record, and they further expand on the more epic and melodic aspects of its predecessor, at the same time making for a far more cohesive listening experience. "We've never actively said "let's do a black metal part" or "let's do a brutal blastbeat part!" We base everything on feeling, but we definitely focused much more on fluidity within the songs and making the record flow much more than on some of our earlier releases." With doom drenched opener "Manufactured Extinct" they set the scene, the monstrous "Clandestine Ways (Krokodil Rot)" - which turns the tables on the vivisectionists working in the cosmetic industry - and "Not Suitable For Life" perhaps the most intense and violent music the band have yet put their name to. Alongside these sit brooding instrumental "The Burden Of Seven Billion" and the melancholic "Ave Exitium", and across the record Ryan's mutated, high pitched melodic shriek - which could never be mistaken for 'clean' vocals - gets more space to breathe. This provides The Anthropocene Extinction with its catchiest parts, though dispensed sparingly and never forced, taking "Mammals In Babylon", "Apex Blasphemy" and closer "Pacific Grim" into somewhat tragic, desperate territory. "I think we came out with something pretty damn catchy, which I know isn't a common trait of this kind of music, but then again we're not trying to be like everybody else, or anybody else. When you have four drastically different opinions in a band that's where I think actual magic happens. We're all into very different things, and sometimes that can lead to conflicts, sometimes that can lead to greatness."Reenlisting Monolith Of Inhumanity producer Dave Otero (Allegaeon, Cephalic Carnage), the band returned to Flatline Audio in Denver, CO, eager to revisit the close collaboration that helped bring that record to life. "Dave is a bonafide producer, he's got a lot of great ideas and this time we heard him out pretty religiously because making Monolith had worked out so well. We've always kind of co-produced our records with whoever we brought in, but these last two we did a lot more listening to what he had to say rather than just sticking with what we were saying. Sometimes we shot down his ideas and vice versa, but that discussion was always beneficial. He basically becomes the fifth member of the band at that point, and I think that kind of relationship is the best way to get anything out of anybody." The Anthropocene Extinction also features contributions from some notable guests, with Tristan Shone (AKA Author & Punisher) contributing to "Plagueborne", Bethlehem's Jürgen Bartsch providing a spoken word part - in his native German tongue - for "Pacific Grim", and Phil Anselmo lends his sandblasted larynx to "The Prophets Of Loss". "We originally didn't plan on having any guest appearances, but when the opportunities presented themselves while we were in the studio, they just seemed to fit perfectly and it was great we were able to actually get them involved. We had played the Housecore Horror Film Fest in Austin and we shot the shit with Phil,who is a very cool guy, but it was our friend John Jarvis (Pig Destroyer, Fulgora) who reached out to him - without telling us - and then told us he wanted to be on the record!" Ryan laughs. "The part you hear him do on that song is exactly what popped into my head as soon as we learned he was going to do something with us, and really all of those guys contributed something so cool to the finished product."The Anthropocene Extinction also sees the band extending their collaboration with Wes Benscoter, who has handled the artwork for every release since 2002's To Serve Man. "As with the case of Dave Otero, when we work with Wes he becomes a member of the band, and this also applies to Mitch Massie [who directed the notoriously NSFW video clip for Monolith Of Inhumanity's "Forced Gender Reassignment"]. I care about their opinions just as much as my own, and it's about putting the ball in the court of these guys as much as possible without sacrificing our artistic integrity." As usual, Benscoter formulated striking imagery that conveyed the record's themes in unflinching style, the cover featuring a bloated and distorted corpse washed up on a beach, its torn abdomen disgorging a mass of waste plastic. "It harkens back to what's going on with the albatrosses they have been finding on Midway Island for years. They're mistaking plastic for krill, ingesting this and dropping dead on the island, and as they decay the plastic inside them spills out. It paints a vivid picture of what's going on out there, and we're taking that and putting that within a human context, because, as I said before, it's a domino effect that ultimately leads back to our own downfall."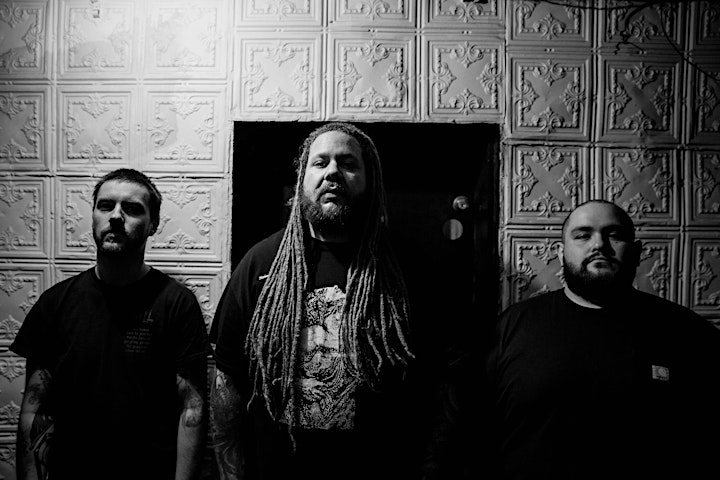 Denver's PRIMITIVE MAN 's music matches its name: a savage, sparse mix of death metal, blackened noise, and doom. The threepiece was formed in February of 2012 by Ethan Lee McCarthy and Jonathan Campos (all current and former members of Vermin Womb, Withered, Clinging To The Trees of A Forest Fire, Death of Self and Reproacher). In October of 2012 the band recorded their debut LP Scorn at Flatline Audio with Dave Otero ( Cephalic Carnage , Cobalt, Catheter, CTTTOAFF). Scorn was released a collaboration between Throatruiner and Mordgrimm Records. The band followed up with a self-released three-song EP in February titled P/M.
The unique metal hybridization of Scorn caught the attention of Relapse, who liked the record enough to sign the band and reissue the full-length in summer 2013. Dubbed a "totally malignant sounding record and one that will consume you whole if you're not careful," by Cvlt Nation and called "the best worst thing that has ever happened to you," in an 8/10 review from Metal Hammer, Scorn found PRIMITIVE MAN celebrating a slow-roasted apocalypse through seven suffocating hymns of hatred, disease and sonic deviance. The record put the band on the map for many listeners, and enabled PRIMITIVE MAN to embark on a relentless touring schedule that would soon see the band playing live shows across the US, Europe, Japan andSoutheast Asia (often for the vast majority of the year) in company with acts such as Hexis, Reproacher, Fister, Celeste, Opium Lord, and Mammoth Grinder. PRIMITIVE MAN also played\ Denver Black Sky in 2013 alongside Relapse brethren Dying Fetus , Exhumed , Skinless , Iron Reagan , Call of the Void , and Weekend Nachos .
All of Ethan McCarthy's projects have been prolific, and PRIMITIVE MAN is no exception – the band released four splits between 2013 and 2015, and dropped another bombshell of nihility in 2015 with its Relapse EP Home Is Where The Hatred Is. The EP was well-received by publications including Metal Injection, MetalSucks, Revolver, and Exclaim!, the latter of who stated, "unapologetically bleak and permeated by loathing and hostility, Home Is Where The Hatred Is will either leave you wanting more or contemplating teetering off a ledge."Despite their primeval, bludgeoning approach, PRIMITIVE MAN wouldn't exist without their savage awareness of modern humanity: simultaneously old and new, atavistic and groundbreaking, PRIMITIVE MAN stands to redefine current conceptions of hope, faith, and metal music . Years of writing on tour and the addition of drummer Joe Linden sparked a black flame in PRIMITIVE MAN molding the band's second full-length offering of soul-crushing blackened doom and noise-ridden claustrophobia entitled Caustic . Recorded and produced at Flatline Audio by Dave Otero (Cobalt, Cephalic Carnage, Cattle Decapitation), Caustic is 12 songs and 75+ minutes of bloodcurdling howls, abysmal tones and dense, unsettling feedback spewingforth a cesspool of utter misery. With lyrical themes ranging from political corruption, personal struggle and the crumbling social climate facing the world today, Caustic serves as 2017's cataclysmic soundtrack for a world gone awry.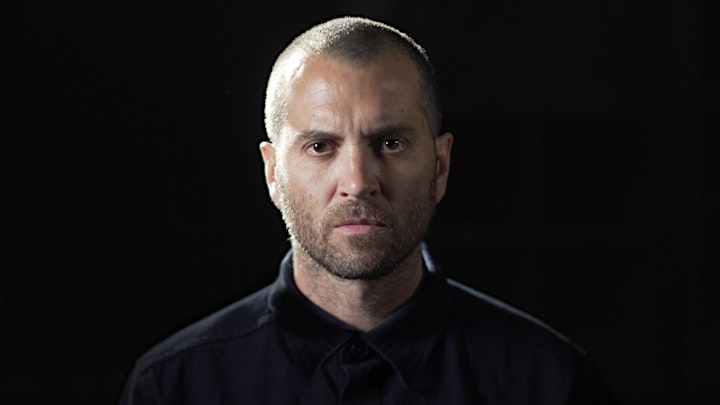 After leaving a career as mechanical engineer in Boston to focus on art and sculpture, Tristan Shone, the creator and sole artist behind AUTHOR & PUNISHER , moved west to pursue his MFA in Southern California. In the metal and machine shops of University of California, San Diego, Shone forged a relationship with design, sound and fabrication that ultimately yielded AUTHOR & PUNISHER' s first music which mapped the journey away from traditional instrumentation towards custom made, precision machinery. Shone used his technical knowledge, along with his artistic background to create what Wired Magazine has hailed as his own "special brand of doom metal", using these custom "Drone Machines".
All aspects of the AUTHOR & PUNISHER sound begin with physical movement, limbsstruggling in unison to coordinate a wall of electronic rhythm and oscillation, ultimately conditioned by an organic and loose quality absent of plastic perfection. AUTHOR & PUNISHER performances are a real amalgamation between man and mechanisms. They are direct, physical, heavy experiences that have amassed praise and intrigue from a wide array of audiences. Pitchfork styled him "immediate but mysterious," Stereogum described his "chilling, unrecognizable form," and NPR hails him as "a thrill [who] fires on all cylinders". Now in 2018, AUTHOR & PUNISHER delivers his sixth full-length recording and Relapse debut Beastland . A robotic experimentation in industrial metal, noise, doom and drone, AUTHOR & PUNISHER recalls Nine Inch Nails channeling Godflesh, traversing through dark, uncompromising, and often disturbing soundscapes with occasional detours into rich melodies and splinters of light. Armed with newly built "Drone Machines" and a new label, Beastland is AUTHOR & PUNISHER's career-defining statement and a powerful listening experience that further blurs the line between man and machine.
"I built new machines for this album to make more aggressive and dynamic music. These devices are compact and powerful, made from robotic components, intended for high energy repetition. I, as do many others, feel rage against the Beasts of our era: those who horde, who poison, or who discriminate. We need aggressive music to make an aggressive statement. Beastland is an introspection of who we are as a human race. At a time when we have the tools, the intellect, and the history to remind us how to treat each other and the earth, we go far out of our way to feast on the less fortunate and vulnerable, disregarding the atrocities and lessons of the past."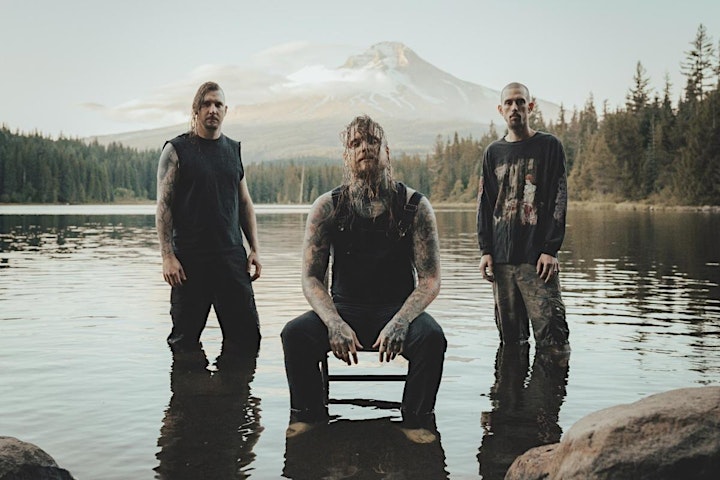 Portland, Oregon's violent trinity, fronted by the dual vocal assault given from guitarist Kyle Rasmussen and bassist Adam Roethlisberger, driven by the inhuman drummer Scott Walker, proved to make a successful strike at the genre's heart with their 2017 EP, "Pain Will Define Their Death". Released via Italy's Everlasting Spew, it already provided a shockingly intense glimpse at the whirlwind that was to be unfurled on the group's much anticipated debut record, "To Bathe from the Throat of Cowardice".

Supported by fellow underground icons such as Trevor Strnad (The Black Dahlia Murder) and just recently confirmed for their first European tour with Nile and Hate Eternal, VITRIOL are poised to attack extreme metal with will, technical proficiency, and the determination to push boundaries, for visual proof just watch Rasmussen/Roethlisberger play through tracks like 'The Parting of a Neck' (https://youtu.be/OpkerWvcb5Q). "The spirit of VITRIOL is to take the uncompromising, thrashy, punky, spirit of the late 90s extreme death and bring it to a world that has been numbed by records that have abandoned all life in favor of shrink wrapped, candy coated articulation," Rasmussen proclaims and transforms into 44 minutes of utmost sincere and vicious music embodying a radicalness and personality akin to the essence of black metal.

Joe Petagno (Motörhead, Krisiun, Angelcorpse) visualized this approach perfectly on the album's gloomy and intimidating artwork: VITRIOL are the blade at the throat of Death Metal's comfort zone, the literally razorsharp cutting-edge stabbing at the fabrics of a genre too complacently regurgitating the same sonic formulas over and over again. SweDeath-replicas, Morrisound-worships, TechDeath-polish – be gone!

"The only noble future for Death Metal is one of strenuous personal responsibility. Intolerance for mediocrity, and reverence without novelty."

With VITRIOL, Century Media Records are proud to present a band willing and self-confident enough to take risks, sonically with its raw, suffocating yet natural production, musically with its sheer abundance of stellar riffs and unworldly rhythm section, lyrically by its deeply personal and gripping invocations of triumph and tragedy. Each note is human talent, each beat sheer force, each line of text a pouring of blood. "To Bathe from the Throat of Cowardice" neglects mainstream conformism in favor of a heartfelt interpretation of Death Metal amalgamating influences from Immolation to Blut Aus Nord, from Hate Eternal to DSO. It is a bold and truly demanding opus yet immensely rewards those who dare travelling beyond.

Venue Information:
The Glass House
200 West 2nd St
Pomona, CA, 91766