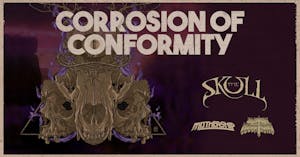 This is the classic line up featuring Pepper Keenan!!!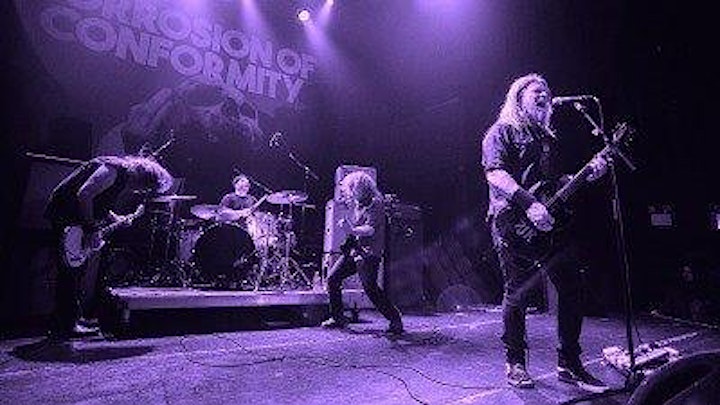 Corrosion of Conformity are reuniting with guitarist/vocalist Pepper Keenan for UK/European and North American dates. Other than a few surprise appearances, this will be the first time Keenan has toured with the band since 2006. This will also be the first time the "Deliverance" lineup of the group has played together since 2001. C.O.C. recently emerged from hibernation as a trio and released 2012's eponymous album and 2014's "IX" to wide acclaim, but many have been eagerly awaiting the return of Pepper Keenan. The band were originally an influential hardcore punk/heavy metal crossover act before reaching critical success with a new lineup on 1991's "Blind" album. That trajectory continued with wider appeal as Keenan took over as primary vocalist on "Deliverance" (1994) and "Wiseblood" (1996). These two recordings in particular fused the raw energy of the previous albums with some great strides forward in classic rock inspired songwriting and more spacious production and execution, which were often copied but rarely equalled. This juggernaut gained mass and momentum with relentless touring alongside Metallica, Clutch, Eyehategod and many more. Eventually following "In the Arms of God", 2005, Keenan focused all energy on his hometown band Down. Until now, that is. Recent internet chatter on the subject of a reunion turns out be true.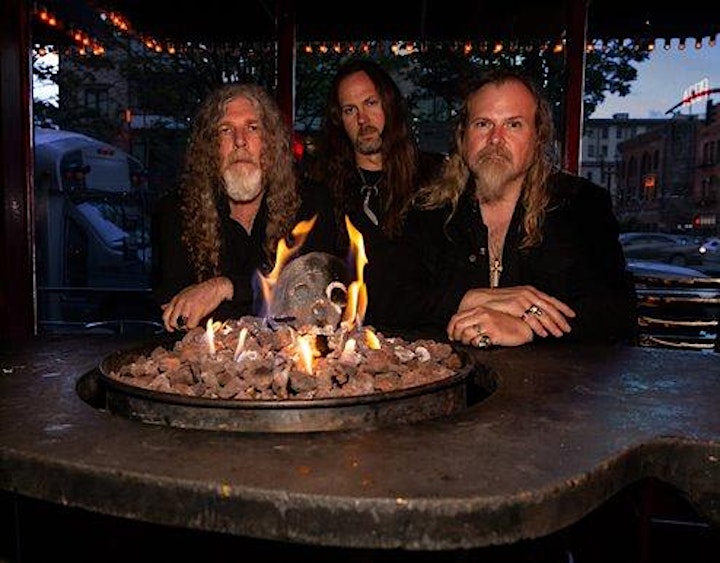 Featuring original Trouble vocalist Eric Wagner alongside former Trouble bassist Ron Holzner with guitarist Lothar Keller (Sacred Dawn), drummer Brian Dixon (Cathedral) and guitarist Rob Wrong (Witch Mountain) the Skull is a supergroup of no mean talents. Formed with the goal of bringing heavy rock to the heart of the populace, The Skull have built their reputation on non stop touring, potent recordings and thrilling live shows. Suffice to say - it's hard not to fall in love with what these guys bring to the table. Fusing the classic doom metal sound of the first Trouble records with the heavy rock oriented attack of the later period, this is the band as the rock titans should have been.
Legends in their own right, The Skull have performed at countless festivals across the world including Roadburn, Hellfest, Psycho Las Vegas, and even have headlined Maryland Doom Fest multiple times. After a hugely successful tour on the Rick Rubin produced self titled Trouble record, the band is gearing up to launch their latest opus, due out in late 2018 on Teepee Records. Promising to be a natural growth on everything the band has worked so hard to create over the last six years, it seems clear that The Skull are coming into their own as a group who are stepping out of the shadows of the past in order to craft something greater, more notable and in many ways truly representative of the state of American heavy rock and doom metal in 2018.
Iconic and forever looking to that next big gig, this is a band who remain driven and passionate even with the world collapsing around them. Fighting against a legion of pretenders, these hard rockers are stunning, impressing audiences with their emphasis on quality songwriting, and the passion with which they take the stage. Humble and fighting to continue living the dream, it's hard not to be inspired by their vision and positive message. Critically acclaimed and constantly pushing for bold new futures, rock and metal lovers across the globe are going to keep being thrilled by these visionaries and their desire to keep rocking, So damn the consequences.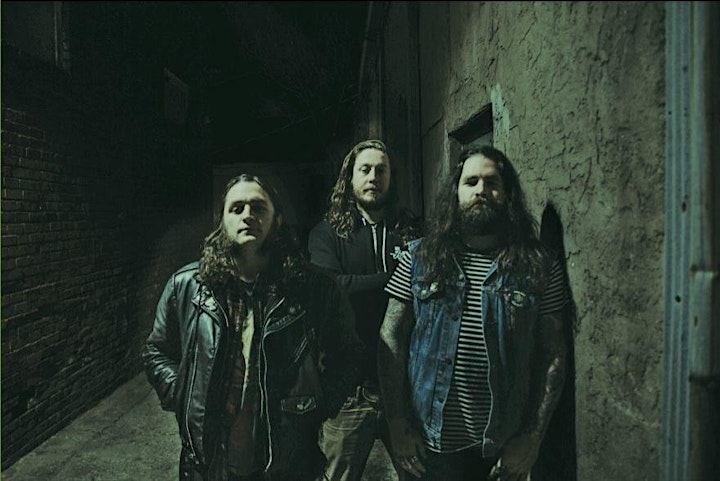 Supersonic intergalactic heavy rock trio Mothership based out of Dallas, TX give a real sense of hope that all is well in the universe, and that pure honest rock and roll has once again returned to the planet on a mission to unite true believers. Consisting of brothers Kyle Juett on bass/lead vocals, Kelley Juett on guitar/vocals, andJudge Smithon drums. Mothership's goal from the beginning has been to carry on the tradition of the classic rock style of the '70′s, updated and amped up for the modern day. The band has been non-stop road warriors since the release of their debut album in February 2013on Ripple Music successfully invading the United States, Canada, United Kingdom and Europe playing either on festival stages, night clubs, or outdoors under the sun at motorcycle parties. Do not miss your chance to hop on board and TRIP ON THE SHIP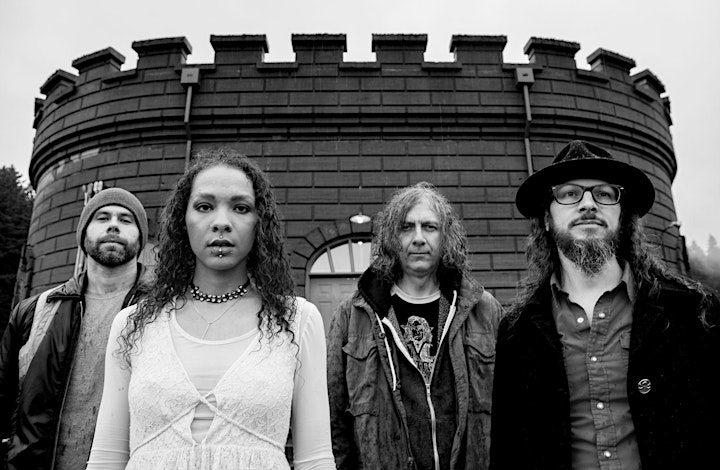 It's been a long three plus years since Witch Mountain's fourth record Mobile of Angels was released. The album, which was the last with vocalist Uta Plotkin, followed an action-packed five-year run of critically acclaimed releases, festival appearances, and tours that took the band around the world. With so much hard work, and a lengthy history, Carson and Wrong were loath to shelve their project, especially considering that the core duo was still intact, so they moved toward rebuilding Witch Mountain.

The musical partnership of Rob Wrong (guitars) and Nate Carson (drums) began in 1997 with the founding of Portland, Oregon's first doom metal band. The first time High on Fire and Electric Wizard played in town, they shared the stage with Witch Mountain, and slept on Nate's floor after the show. The first time YOB played in Portland was also supporting Witch Mountain. Same goes for Agalloch. Friends and peers all. Many bassists had spontaneously combusted over the years, but early 2015 brought Justin Brown to the fold. His low-end tone and tasteful swagger only solidified the band further. And then there's vocalist Kayla Dixon.

Uta left big shoes to fill, and the tours over the last three years have cemented Kayla's uncanny ability to sing, perform, and write with the band. It was key to Wrong and Carson not to rush back into the studio with a new group. Instead, a family unit began to develop during the 2015 tour with Enslaved and YOB. Then Glenn Danzig called, requesting Witch Mountain for support on his Blackest of the Black tour. Longtime fan and supporter Phil Anselmo had a hand in there somewhere too...

After the Danzig tour, the band set to work writing a new album, interrupted once more by another full US tour with Saint Vitus and the Skull. By this time, Rob Wrong was also playing guitar with the Skull, holding down double duty with two of America's most classic traditional doom bands, proving that his pyrotechnic hybrid of Hendrix and Iommi is a force to be reckoned with.

And here comes the fruit of these labors. A new band, fronted by a young woman who has been singing, acting, and dancing since she was a small child. Kayla Dixon brings her top tier abilities to a genre little known for such soulful vocal chops. NPR said of the song "Burn You Down:" "Kayla Dixon is a rarity in doom-metal, a singer with soul, dynamism, drama, control and poise. There's proficiency in her voice, but she knows that the blues — especially heavy-metal blues — rolls like thunder and wanders like a diva dancing around. She's got a gift for righteously nailing the perfect note."

Witch Mountain still maintains total artistic control. The band is self-managed, self-booked, and owns its entire back catalog.

We are proud to be twenty years in, having never peaked along the way.

Venue Information:
The Glass House
200 West 2nd St
Pomona, CA, 91766