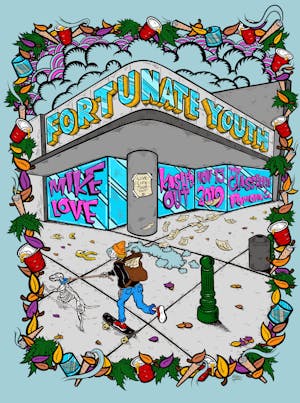 Fortunate Youth
The Glass House
Pomona
,
CA
$20.00 - $25.00
Tickets At The Door
LIVE LIFE FALL TOUR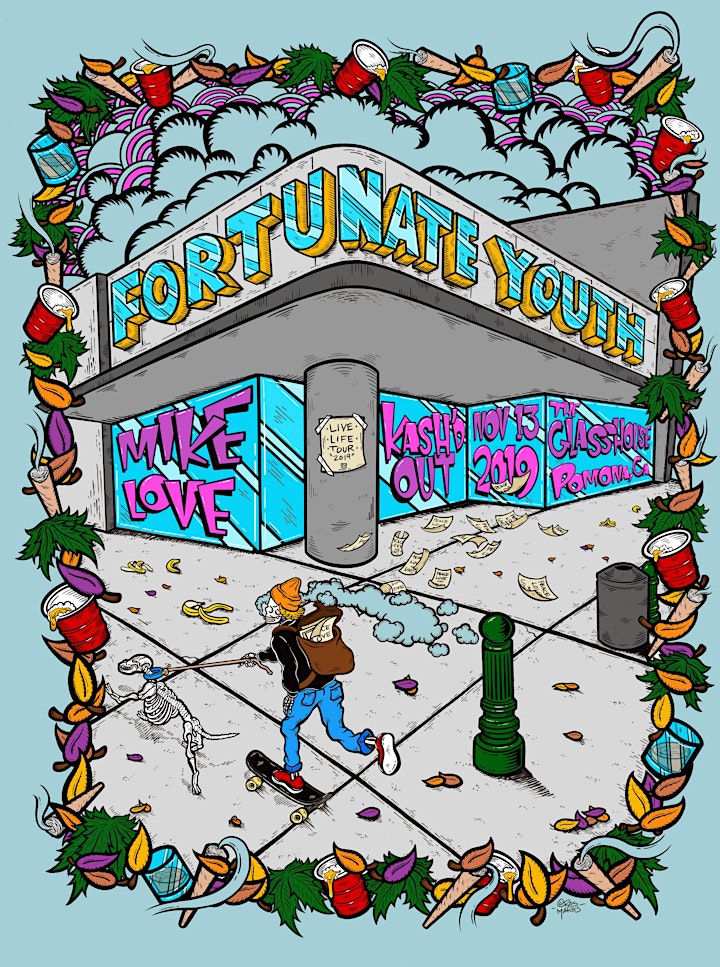 VIP PACKAGES AVAILABLE HERE https://www.eventbrite.com/e/fy-live-life-tour-vip-packages-pomona-ca-tickets-69730532901
(ONLY UPGRADES, DOES NOT INCLUDE A TICKET FOR ADMISSION):
*Diamond Package(21+)*
- 2 Song Acoustic Session on FY Bus
- 4 Pack of FY Collab Beer "Live Life Lager" (would require to keep outside venue)
- Everything in the Platinum Package (except Sound Check)
- 10% Off Merch Store with Commemorative VIP Laminate
*Platinum Package*
- Private Access to Fortunate Youth Sound Check
- FY Meet & Greet w/ Picture
- Autographed Set List
- Crowd Free Merchandise Shopping
- First Entry into Venue with Separate VIP Line
- 10% Off Merch Store with Commemorative VIP Laminate
*Gold Package *
- Exclusive FY VIP 12" x 24" Foil Poster
- Commemorative Live Life Tour VIP Laminate
- Exclusive FY VIP 3" Patch
- Exclusive FY VIP Sticker
- Exclusive FY VIP Pin
- Exclusive FY VIP Button 4-Pack
- Autographed "Live Life" CD
- Autographed Set List
- 10% Off Merch Store with Commemorative VIP Laminate

Fortunate Youth is a collective of five outstanding musicians/producers who have taken the worldwide music scene by storm. Spreading inspirational messages of Peace, Love, and Unity, Fortunate Youth connects music lovers from all over the world, creating a global family of positivity and progressive ideals. FY was born in Hermosa Beach California, a popular beach town in Los Angeles County. Four members attended high school together (Jered Draskovich, Corey Draskovich, Travis Walpole, and Greg Gelb) linking with Mississippi transplant Dan Kelly (singer). The band has toured heavily since 2009 with over 27 tours nationwide and abroad. Fortunate Youth has released 4 full length studio albums, Three of which hit #1 on the Billboard and iTunes Reggae charts. "It's All A Jam" (2013), "Don't Think Twice" (2015), and "Fortunate Youth" (2017)
Fortunate Youth just finished their West in Peace Fall Headline Tour w/ The Movement & Josh Heinrichs and will be joining Slightly Stoopid for a few dates in Hawaii to start off 2019/
In 2011 they supported Tribal Seeds on their nationwide Tribal Youth Tour to spread their conscious music to the nation. F.Y. linked up The Green, from Hawaii, for a Midwest/Westcoast run before jumping back in the studio to record. They have hit the masses promoting only their 6-song EP titled "Up-Lifted EP" and just released their full-length album, "IRIE STATE OF MIND" on July 1, 2011. Fortunate Youth will also be touring very heavily through 2011 including a Naitonwide CD Release Summer Tour.
Upon Releasing their full-length album they quickly rose to #2 on the iTunes Reggae Charts and also locked in a #13 position on Billboard Top 100 Reggae Albums. Receiving great praise for early success Fortunate Youth strives to spread their interpretation of Reggae music to Music Lovers worldwide.
Fortunate Youth toured very heavily in 2012 supporting Headliners such as The Expendables and Tribal Seeds. FY also headlined their own Nationwide Summer of Sweet Love Tour proving they can pull their own weight. Making their first international departure, Fortunate Youth played 4 shows in Costa Rica spreading the love of reggae music internationally.
2013 release, "It's All A Jam", hit numerous charts including #1 on Billboard Reggae Charts, #10 Billboard Pacific Heatseekers Chart, #23 Billboard National Heatseeker Chart along with #1 on iTunes Reggae Charts and #46 iTunes Overall Charts. FY followed the album release with a 55-Show nationwide Spring Headline Tour seeing great response from the album's successful release.
Fortunate Youth just finished a Spring 2014 Headline Tour and are gearing up for their Fall with Friends Tour which boasts a solid lineup of support bands including: New Kingston, The Expanders, The Steppas, Ease Up, Thrive, Ashes of Babylon, and more.
Fortunate Youth released 'Dont Think Twice' in 2015 and followed it their "Dont Think Twice Spring Tour" with Hirie and Sensamotion Band. In 2016, they released their "Love is the Most High" compilation of Love Songs near Valentine's Day and then quickly released 'Cub Collections, Vol. 1"
Fortunate Youth supported Stick Figure on their 'Set in Stone' Album Release Tour which over 90% of the shows Sold Out! They followed up with another Summer Support Tour with Slighty Stoopid, SOJA and Grouch & Eligh and went directly into Fall with Slightly Stoopid heading back down the West Coast.
Fortunate Youth released their self-titled album in February of 2017 and followed it with another Nationwide - Headline Tour w/ Josh Heinrichs and Iya Terra as support! Fortunate Youth's self-titled album hit #1 on Billboard & iTunes Reggae Charts and remained in the top 10 for 5 weeks. FY then released their 'Dub Collections, Vol. 2' in October of 2017.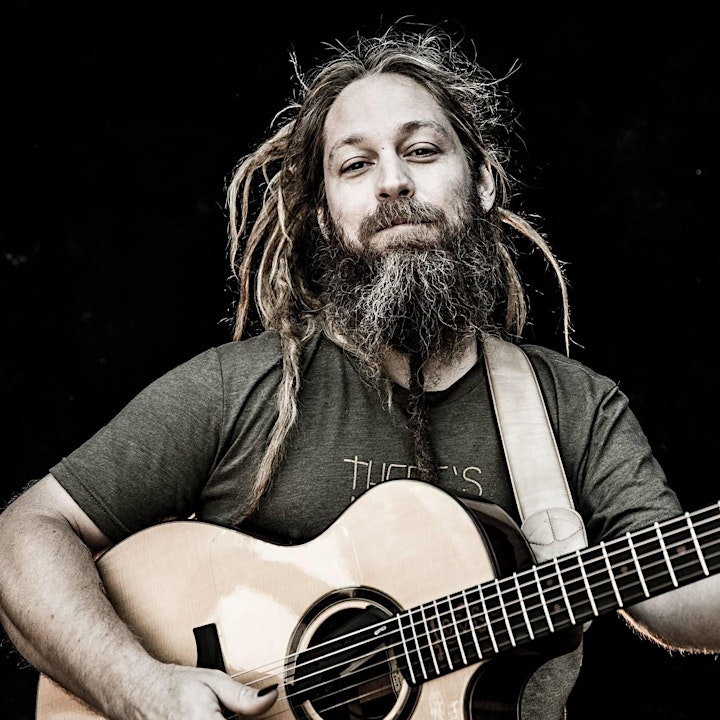 Revolutionary music may seem hard to come by in these days and times. Long gone is the era of artists like Bob Marley, The Clash, Stevie Wonder and Patti Smith getting airplay and bringing their messages to the masses. But that doesn't mean that the revolution isn't still brewing in the hearts and minds of many people around the globe.
Meet Mike Love. One of reggae music's rising stars. Born and raised in Oahu, Hawaii to a musical family that spans generations, Mike Love brings a multitude of influences to the table, all tied together by the common goal of making the world a better place.
Which is no mean feat. On his debut album, "The Change I'm Seeking", Love harkens the legends of roots reggae in both his lyrics and his sound, but never relies on any one genre to hold him down. Coming from a wealth of influences – he started out playing classical piano as a teenager and later would perform in high school bands that were more akin to the grunge sounds of Soundgarden and Pearl Jam – Mike Love fuses the simple rhythms of classic reggae with the complex changes of the classical and rock music he was first trained on to come up with a style wholly unique to him. Mike is currently wrapping up his highly anticipated second album, titled "Love Will Find A Way", due out September 2015.
But it's his message, his passion, the wisdom behind his words that truly resonate with his fans. "It's always been about the depth," Mike Love explains, "I've never been into music that was shallow. I'm still learning. I'm still learning about where I'm going and where I want to be. All the music is a learning tool to me too. I just make myself open to it. All the messages that come through the music, it's not just coming through me and my wisdom, because I don't think I'm that wise of a person. I don't think I'm some wise elder or anything like that. I just make myself open to the music and it just comes through. To me it's just as much of a teaching for me as it is for anyone who is listening to it and is open to it."
His songs take you on a journey, one of healing and inspiration. One designed to help you on your path to knowledge, wisdom and understanding. On "Permanent Holiday" he takes you on a lyrical quest for freedom, both his and yours. He laments the ills of the world but also discusses solutions and ideas to change them.
Mike Love has shared the stage with artists like Stephen Marley, Don Carlos, Trevor Hall, Nahko & Medicine For The People, John Butler Trio, Groundation, Steel Pulse, Dave Matthews and Jack Johnson.
Revolutionary, Conscious, Music.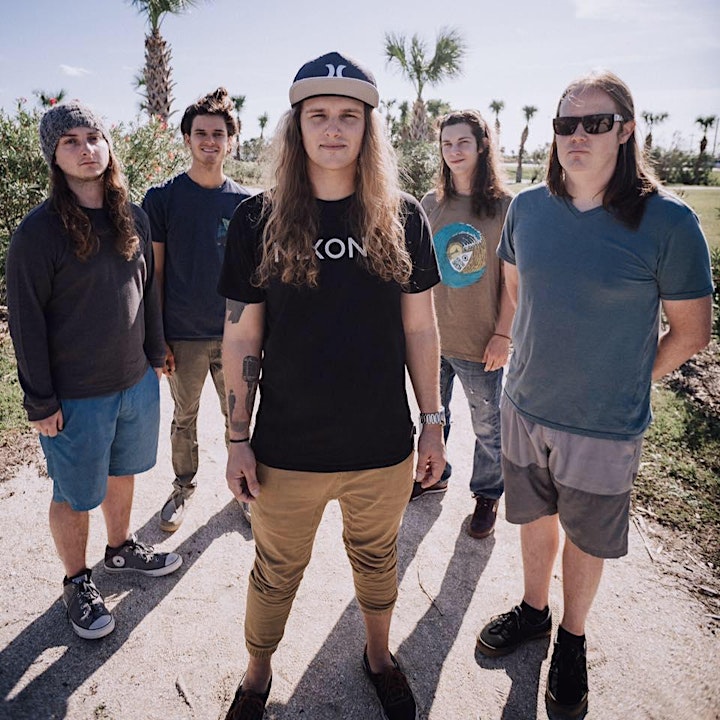 Straight out of the Sunshine State, Kash'd Out hits the reggae/rock scene with style and ease.

Since 2014, guitarist Jackson Hauserman and Sound Lounge Studios producers Greg Shields and Josh Saldate have been sending out positive energy through catchy, feel-good tunes indicative of their Orlando, Florida roots. Their laid-back coastal sound, fun choruses and pop melodies promote their message of having fun and being good people.

Inspired by music from Slightly Stoopid, New Found Glory and 90's R&B, and experience working with Ballyhoo! and Tribal Seeds at Sound Lounge Studios, Kash'd Out entered the flourishing reggae/rock scene with energy and drive.

Upon completing their self-titled debut EP, the band recruited Joey Brohawn on bass, Marshall Hearne on drums and Nick Gudzan on keys. With the lineup intact, they hit the studio to begin work on their second album.

During that time, front man Greg Shields co-wrote Ballyhoo!'s latest record, "Girls," and joined them on the Vans Warped Tour 2016. There, he was introduced to Hawaiian reggae/rock legends, Pepper. He waited patiently for the right moment to show the band Kash'd Out's new material in hopes of locking in an offer to sign with their label, LAW Records.

Greg's efforts paid off. Kash'd Out released their new full-length album, aptly named "The Hookup," on Pepper's LAW Records on May 26th, 2017 and it debuted at number 2 on Billboard's Top Reggae Albums.

In a review of the album in The Pier, Mike Patti notes, "What struck me the most about The Hookup were the unique, catchy melodies and vocal deliveries found on each song."

Fresh off of a nationwide tour with Pepper and Less Than Jake, followed by another with Pacific Dub, Kash'd Out doesn't plan to stop touring anytime soon, making them easy to find on a stage near you this summer!

Visit www.kashdout.com for tour dates, merchandise and music.

Venue Information:
The Glass House
200 West 2nd St
Pomona, CA, 91766