Home Sick Festival with Joyce Manor, Drab Majesty, Ceremony, Full of Hell
The Glass House
Pomona
,
CA
Home Sick Festival's first time in Southern California!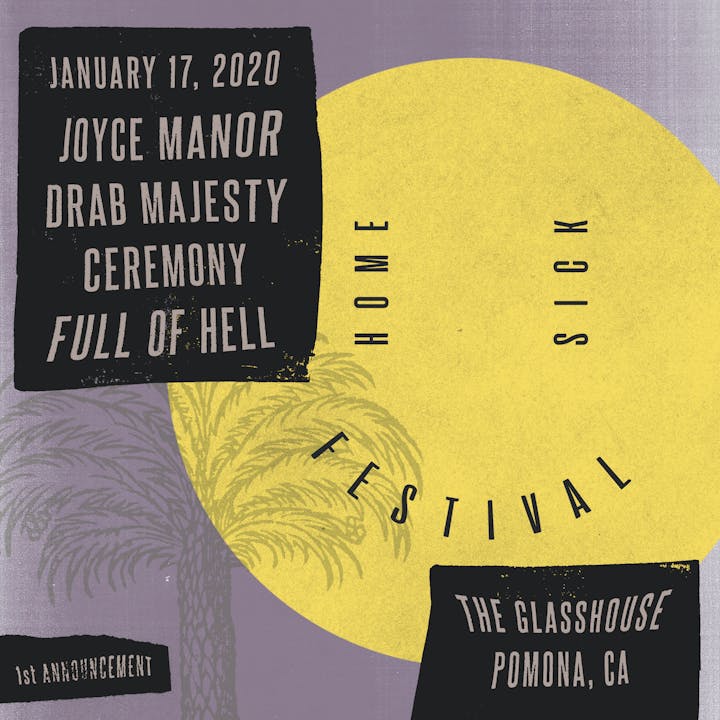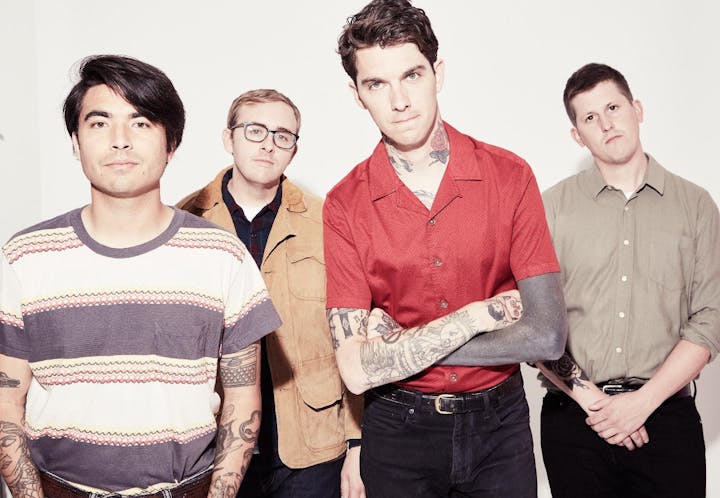 Let's start the story of Joyce Manor's Million Dollars To Kill Me at the end of Million Dollars To Kill Me—at the last not-even two minutes of "Wildflowers," a song about light and beauty and wonder that ends the record like a sunrise after a long exhausting night. It's not a sing-along single or a bleaked-out slow-burner. It's brief, understated, and simple but sophisticated as it says what it needs to say in seven sharp lines. And it ends the album with a question instead of an answer, because on an album like this, questions are more honest. If 2016's Cody was about growing up, then Kill Me is about what happens next—the reckonings with love, money, doubt and confusion, and the hope that persists despite it all. That's where "Wildflowers" comes in. Says Barry Johnson, band co-founder/guitarist/vocalist: "'Wildflowers' is my favorite song on the record—maybe my favorite song I've ever written. It's about how something can be so beautiful it breaks your heart."
That's Million Dollars To Kill Me: an album that glides across that tension between two perfectly opposite feelings. That's even how the guitars fit together. It's in the way co-founding guitarist Chase Knobbe can somehow make a song sound sadder and tougher at the same time, says Johnson, or the way Johnson mixes minor and major chords to invoke a precise kind of overpowering melancholy. ("I like when songs have a feeling of yearning," says Johnson. "It just feels good to me. Makes you wanna cry.") It's even in the way the album was made because it didn't start as a Joyce Manor album at all.
After Cody, Johnson contacted Impossibles' guitarist/vocalist Rory Phillips—"One of my musical heroes," he says—to produce the next Joyce Manor album. Phillips couldn't fit the commitment between work and family, but another idea materialized: what if Johnson and Phillips made a new band together? Over email, of course, since they were thousands of miles apart? So Johnson would send his half, and Phillips would send a whole song back, and it worked well. ("It was just really exciting to mail away for a song," says Johnson.) Then it worked too well. When Johnson asked Knobbe to add some guitar—on the original "Wildflowers," actually—he understood what was happening. What he'd thought of as "weird songs that were created with fake drums between two guys who were never in the same room with each other" were revealing themselves as the start of a new Joyce Manor record.
So they made a new Joyce Manor record. With Knobbe, new drummer Pat Ware—"Awesome new drummer," adds Johnson—and longtime bassist Matt Ebert, they wrote enough songs to fill a full-length, and then worked to get the ones lifted from emails to match the ones written at full volume. ("Bedroom charm versus live rock band," Johnson explains.) Their next step was a new step: their first time recording outside their L.A. hometown, at Converge's Kurt Ballou's GodCity studio in Salem, Massachusetts. They recorded daily 10-to-6 so Ballou could spend dad time with his kids at night, and then slept right upstairs in bunk beds: "Kinda felt like camp," says Johnson. "It was a pleasure—I would recommend it to anyone."
Kill Me kicks off with "Fighting Kangaroo," part Jawbreaker wit and part Jawbreaker grit, while follow-up "Think I'm Still In Love With You" digs deep into that pit between pleasant memory and unpleasant present. (Or is that what "Friends We Met Online" does?") There's the instantly catchy "Silly Games," the deadpan blue album Weezer-style pop song where Johnson and Phillips started everything, and the Britpop-py (or Teenage Fanclub-by) title track, with a final line that lands like a boulder toppling off a cliff. There's the acoustic "I'm Not The One," with equal connections to Big Star, Billy Bragg and San Pedro hometown hero Todd Congelliere, who could make a sing-song playground melody sound profound. There's a little studio-inspired experimentation: e-bow on "I'm Not The One" and glockenspiel on "Silly Games," both Joyce Manor firsts. ("I never once suggested putting glockenspiel on anything but I think it works!" says Johnson.) And finally there's "Wildflowers," that unexpected inspiration for turning weird songs with fake drums into real songs with real drums and real everything, really. That's how Kill Me began, and that's how it ends—clear, honest, direct and true. Which is about all you could ask for, whether you're starting a record or finishing it. Or listening to it.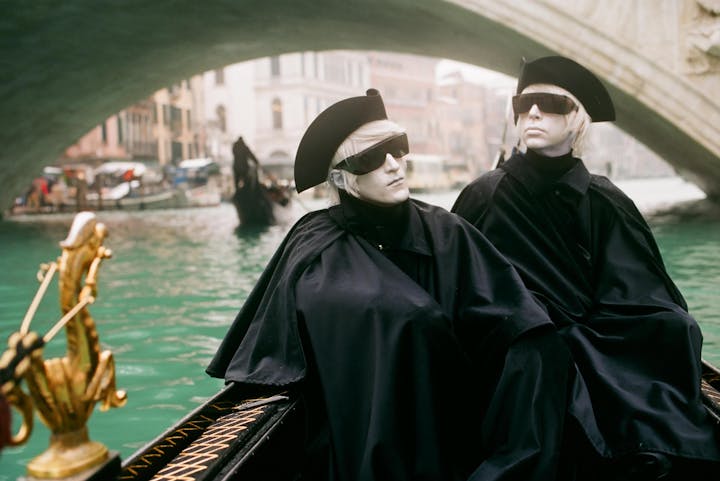 Drab Majesty is the solo project of Deb DeMure, the androgynous alter-ego of L.A.-based musician Andrew Clinco. With its combination of reverb-drenched guitars, synth bass lines, commanding vocals, and rhythmic drum machine beats, this project is a stark departure from Clinco's previous stints as drummer in Marriages and Black Mare. Dubbed "Tragic Wave" and "Mid-Fi" by DeMure, Drab Majesty eloquently blends classic 80s New Wave and hints of early 4AD with a futuristic originality. Drab Majesty's first release, a limited-edition cassette of 100 copies titled Unarian Dances, was self-released in 2012 and re-pressed by Lolipop Records shortly thereafter. Drab Majesty then signed with Dais Records and put out the debut LP Careless in 2015. Careless was met with high praise from critics and fans alike, and the original pressing is now a sought-after gem. A year after the initial pressings of Careless sold out, Dais released a compilation titled Completely Careless, featuring Drab Majesty's entire discography, including two previously unreleased tracks.
A talented multi-instrumentalist, DeMure composes all of the elements of Drab Majesty. However, rather than taking personal credit for the music, DeMure insists that the inspiration for the songs is received from an other-worldly source and that Deb is merely a vessel through which outside ideas flow inward. But Drab Majesty is more than just a musical project — it's a methodical experiment in the identity of creativity. The character Deb DeMure is an enigma that eludes all expectations of gender and ego. When DeMure's imposing 6' 4" figure assumes the stage, Deb's playful, harlequinesque appearance, tempered by an ominous body language, and clashing with the dreamy, ethereal melodies comes across as a web of contrasts. The result is a perfect balance between seemingly conflicting messages, between the high and the low, the drab and the divine.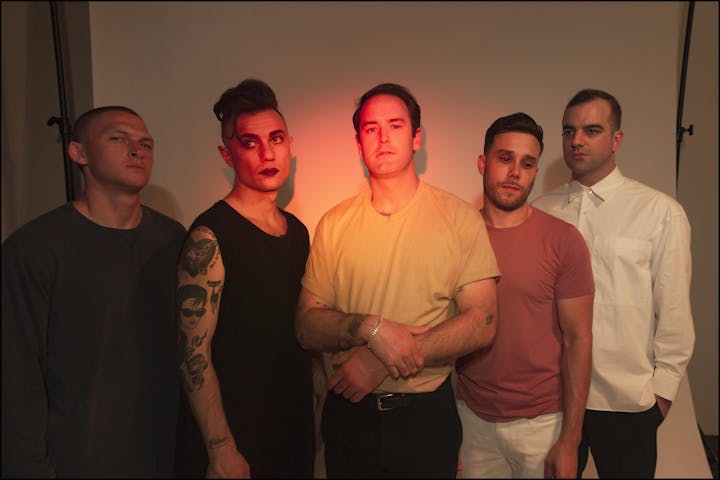 Ceremony's lead guitarist Anthony Anzaldo doesn't want to talk about the fact that his band has been around for over ten years. Or that they've drifted away from the hardcore genre that made them, or that they jumped ship from their long-time label, Matador Records, to join Relapse Records instead. Or that their sixth album will mark four years since the iconic punk band has released any new material. These things aren't ​really​ important. What matters is that ​In the Spirit World Now​ is Ceremony's most driving, intelligent collection of songs to date.
"We knew this had to be the best thing we have ever done," admits Anzaldo. "We couldn't come back after four years with a record that only had a few good songs."
Produced by Will Yip (Title Fight, Circa Survive, Turnover) and mixed by engineer Ben Greenberg (The Men, Pharmakon, Hank Wood And The Hammerheads), In the Spirit World Now​​ grows with each listen, balancing Yip's pop sensibilities with Greenberg's noise-punk influence through dramatic, shining synthesizer hooks and a mature vocal strategy. Drummer Jake Casarotti and bassist Justin Davis power through the 11-tracks as a strong yet sparse backbone that interlocks with guitarists Andy Nelson and Anzaldo to create a pop-centric, post-punk canvas for frontman Ross Farrar to expel the most vulnerable parts of himself. (And, thankfully, there are many.)
Farrar, who has been studying and teaching at the ​Syracuse University MFA Poetry Program​ for the past three years, has found himself as a vocalist on ​Spirit World​​, not only sounding more confident and in the pocket than he ever has before, but exploring amorphous lyrical territory about arrested development, botched relationships, and the never-ending hamster wheel of self-destruction so many creatives fall into.
"​I've been very interested in will, as in a person's faculty of consciousness and how we navigate actions and self-control," Farrar says. "I've been worried for a long time that my lack of self-control will inevitably destroy me, so any paranoia on that matter is focused on this record."
Spirit World​ is a carefully composed punk record by a band who is so in tune with one another as players that their physical separation didn't affect the music when it came time to get together and work. Despite living in opposite ends of the country, they met up, rehearsed the new material, and demoed it out in Anaheim at a friend's studio. After two weeks, the tracks were loose with Farrar only mumbling melody ideas on top of the band. A few months later, they linked up with producer Will Yip and he flushed out the demos, helping develop the structure as the songs took shape in the studio. To add some grit to their slew of polished post-punk hits, Anzaldo called on Greenberg to help develop melodies and interject synthesizers and keyboards into the songs before he mixed the record.
"We really took it song by song on this album," says Anzaldo. "We pushed ourselves more than any other record. We didn't have a lot of time together, so the time we did have was precious, and we were hyper-focused on making the best songs possible."
Spirit World​ ​is full of layered sonic fury and anxiety, each song building up to a point and then descending down through a militant hook. "Turn Away the Bad Thing" sets the tone, guitars climbing around the driving bass line, as Farrar sings, "​It's getting harder for me to be alright/Eyes adjusting to the dark/The momentum of all these last resorts built inside of me." Songs like "Presaging the End" and "Calming Water" feel romantic and distressed, while "Further I Was" and "Years of Love" are driven by Farrar's rebellious energy as he repeats the hook with a deadpan realness. "Years of love can be forgotten/In the hatred of a day." But the true stand-out is the title track, "In the Spirit World Now", a haunting pop gem with a sticky chorus and lead synth riff that plants itself in your head as Farrar chants the track's name over and over like a mantra. "The spirit world is a sort of nebulous and ectoplasmic place where things may not be quite what they seem," he says. ​Spirit World​​ marks a milestone for this legendary Northern California punk outfit who have stayed true to themselves as songwriters throughout massive sonic growth throughout their long, storied career.
"Not reflecting on the evolution of the band is what keeps us motivated," Anzaldo admits. "There is always a song we haven't written, a band we haven't played with, artwork we haven't thought of. We are creators by nature, not by choice."
"In certain circles, Full of Hell needs no introduction. This young band has made a name for themselves in a short amount of time, racking up a prolific touring and release history while exploring a gamut of sounds within the spectrum of extreme and avante garde music. Formed in 2009, the embryonic beginnings of Full of Hell display their palette at it's most primitive, d-beat and blast ridden hardcore punk with spats of noise and caustic rhythm, and within a few short years, they have bloomed into a true force to be reckoned with within the punk and metal communities. Within the past two years the band has released their now acclaimed 2xCD collaboration with none other than MERZBOW himself, which showed the band truly beginning to come into their own, combining elements of grindcore, death and black metal, punk and hardcore with a smattering of sonically laden power electronics and industrial pounding. 2016 saw the release of their collaboration with the thundering and depressive duo, THE BODY, entitled "One Day You Will Ache Like I Ache".. This acclaimed release was followed by a collaborative live tour, where the band bent expectations again in a whirlwind of electronic percussion and drone. 2017 will see the release of an as-of-yet untitled third full-length LP. Numb your mind."

Venue Information:
The Glass House
200 West 2nd St
Pomona, CA, 91766