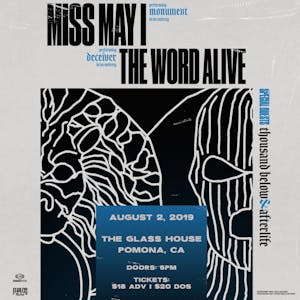 Doors 6pm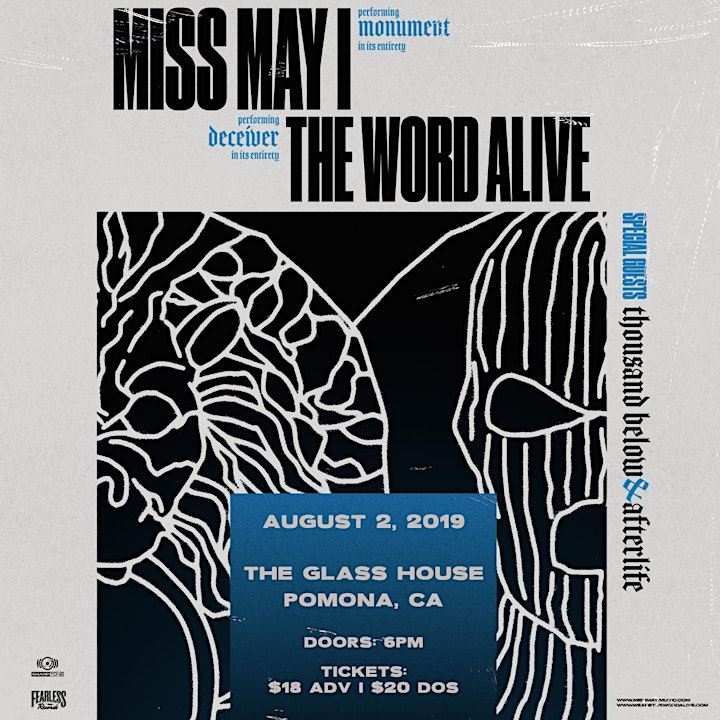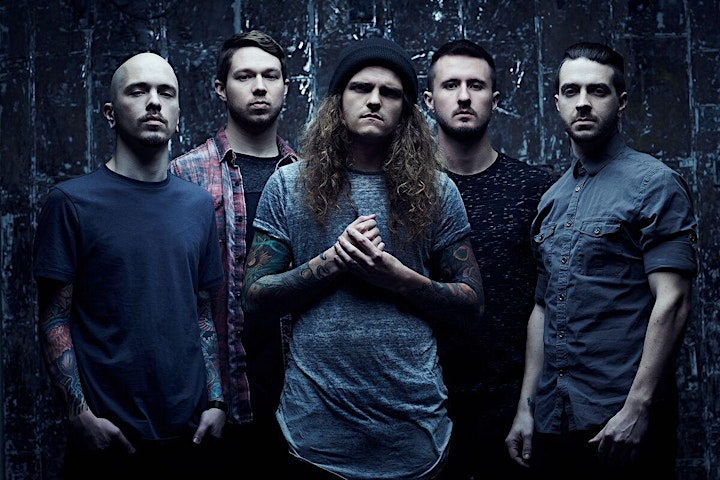 The sound and fury of MISS MAY I is deeply embedded in the hearts and minds of a legion of fans. These are people from different backgrounds, of different ages, with diverse life experience, who all come together and connect with MISS MAY I's combination of brutal proficiency and impassioned delivery. The five-piece powerhouse, from the fertile metalcore grounds of America's heartland, have become an integral part of the worldwide heavy music community, transcending boundaries and limitations, galvanizing crowds, and energizing each person they encounter. Not only have the young Warped Tour and Rockstar Mayhem veterans proven to be one of the most exciting bands in the genre, they've managed the near-impossible task of maintaining their original lineup along the way. These are the same guys who formed Miss May I as teenagers in 2007 – inspired by New Wave Of American Metalcore heroes like Lamb Of God, Underoath, and Bleeding Through, as well as hard rock and metal legends like Pantera and White Zombie – now grown men. And in the eight-year span between studio albums from Metallica, Miss May I cranked out five slabs of metal: Apologies Are for the Weak (2009), Monument (2010), At Heart (2012), Rise of the Lion (2014), and Deathless (2015). All three of their most recent albums debuted in the Top 5 on Billboard's Hard Music chart.The band's brand new album, Shadows Inside, doubles as monster riff-fest and forcefully vocal driven statement shaped by changes both within and without. Make no mistake this isn't an about-face album full of contrived sentiment or glossy emptiness. It's a record where the band challenged each other to work from outside of their comfort zone, to really hone in on what makes Miss May I vital, and deliver something fully authentic and raw. On the road with friends and peers like August Burns Red, Parkway Drive, Blessthefall, Memphis May Fire, We Came As Romans, and Whitechapel, Miss May I bring devastating fury onstage and good natured charm offstage. They've held their own as support for rock radio hitmakers Five Finger Death Punch and as headliners on the Alternative Press Tour. This is a band with diverse appeal; they fine-tune their punishing metallic assault with an almost "pop" sensibility when it comes to catchy memorability. The official music videos for Miss May I singles including "Deathless," "Echoes," "Relentless Chaos," "Forgive and Forget," "Hey Mister," "Masses of a Dying Breed," and "Day By Day" account for roughly 50 million views on YouTube, to say nothing of the fan made videos, live clips, cover versions, and audio streams. Those same anthems have been played millions of times more across streaming services and social media, embedded in the musical DNA of a generation of contemporaries and fans. Early on, vocalist Levi Benton, bassist/vocalist Ryan Neff, guitarists BJ Stead and Justin Aufdemkampe, drummer Jerod Boyd and made two albums with scene kingmaker Joey Sturgis, positioning themselves among titans of the burgeoning modern metalcore genre like Of Mice & Men and their fellow Ohio natives in The Devil Wears Prada. At Heart, made with producer Machine (Lamb Of God, Eighteen Visions) was something of a graduation, demonstrated by the massive sound of immediate anthem "Hey Mister," an AltPress cover feature, and main stage validation on the Vans Warped Tour. The slickly savage Rise of the Lion, made with legendary producer Terry Date (Pantera, Deftones, Limp Bizkit), was ample evidence that Miss May I could hang with the big dogs. The band championed the circle pits and sleeveless denim they grew up seeing at Ozzfest, inspired by groups that had assembled in the DIY scene, like them, and went on to climb the heights of the metal mountains. The defiant mission statement that was Deathless followed, reuniting them with Sturgis in the throes of behind-the-scenes hardshipa that saw the band nearly dissolve, but ultimately triumph. Nick Sampson (Asking Alexandria, Born Of Osiris, In Fear and Faith), who worked alongside Sturgis on Deathless, took the reigns of the instrumental section of Miss May I's new album with the instrumental members in the Midwest. Benton collaborated with producer Drew Fulk (Motionless In White, Emmure, Crown The Empire), who brought out the best vocal performances of the young singer's career thus far. Working in California, the pair was able to communicate ideas to the band back in their Michigan studio, where they'd reshape and refine the songs, until they were perfect.This process, unlike anything Miss May I had attempted before, resulted in their most fully realized album yet. Mixed by Andrew Wade (A Day To Remember, The Word Alive, Neck Deep), the band's first record for SharpTone is truly the best of everything before, with new ambition and confidence. Shadows Inside is a monster of an album and a longtime coming. Miss May I celebrates a decade of savage metalcore and soaring melodic refrains, newly revitalized, and poised for an insurgent career renaissance; armed with unmistakable power, road hardened experience, a steadily building catalog, and unrelenting spirit, supported by a diehard community.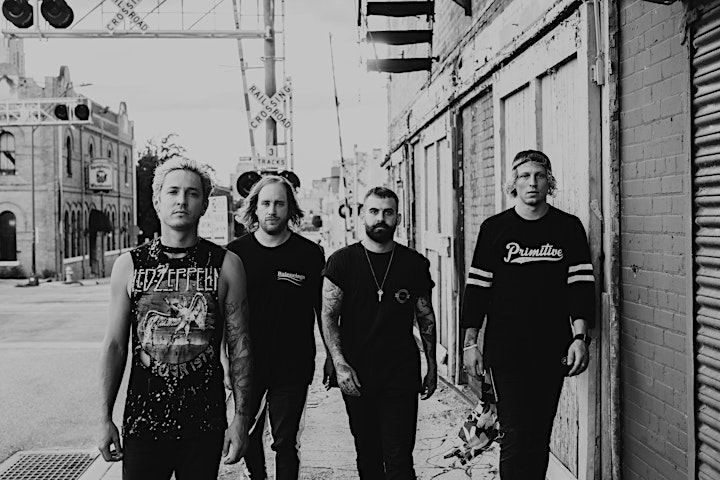 THE WORD ALIVE — Since 2008, The Word Alive have steadily maintained a course towards the forefront of alternative heavy music and have continued their upward trajectory ever since. The Phoenix-based quartet — Telle Smith [vocals], Zack Hansen [guitars], Tony Pizzuti [guitars], Matt Horn [drums] toss and turn between visceral power and entrancing emotionality encased in swathes of otherworldly electronics. It's a singular sound that has naturally evolved since their debut record, Deceiver, and continued through their most recently release of Violent Noise. They've earned acclaim from the likes of Alternative Press, Revolver, Guitar World, and Modern Drummer and supported I Prevail, Killswitch Engage, A Day To Remember, Motionless In White, among others, and are known for their ability to ignite crowds across the globe. 2018's Violent Noise represents the culmination of a decade and the unbreakable bond shared by the band and their fans. Telle, Zack, and Tony. Now, over 11 years after forming they continue to show they haven't lost their spirit, as they've celebrated "10 Years Of The Word Alive" across America, Europe and the UK in 2019. As a thank you to long time fans as they embrace change and continue to push boundaries, they will be pausing working on new music to bring you an unforgettable and highly demanded DECEIVER ENTIRETY TOUR with longtime friends and tour mates Miss May I.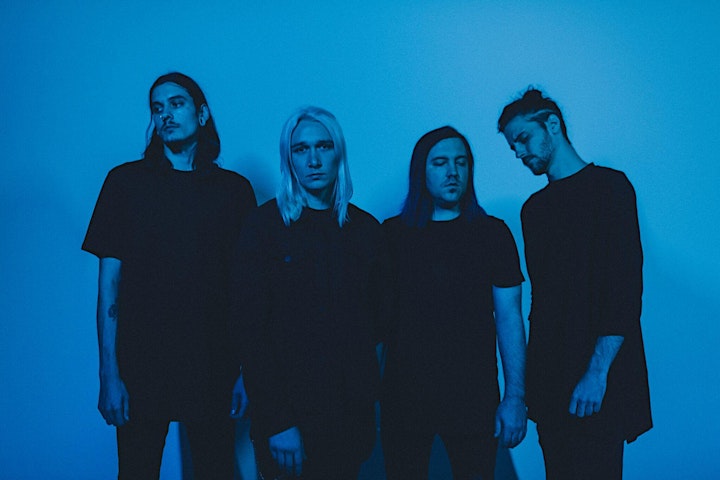 Afterlife—vocalist Tyler Levenson, guitarist Andrew McGuire, drummer Luke Walkinshaw and bassist Tristan Edwards—emerged from West Palm Beach, Florida, at the tail end of 2016 with a clear vision of what they wanted to bring to the world with their music. Finding the intersection between Slipknot, Linkin Park and modern hip-hop, the band set out to create something both fresh and familiar. Following up their fast and in-your-face Vicious Cycle EP, Afterlife's debut album Breaking Point ambitiously tackles a variety of impactful topics from mental health and domestic assault to political apathy and the weight of guilt. Blending singing, screaming and rapping over a heavy, yet satisfyingly melodic landscape for a unique sound coupled with socially conscious lyrics, Afterlife are poised to influence this generation of heavy music.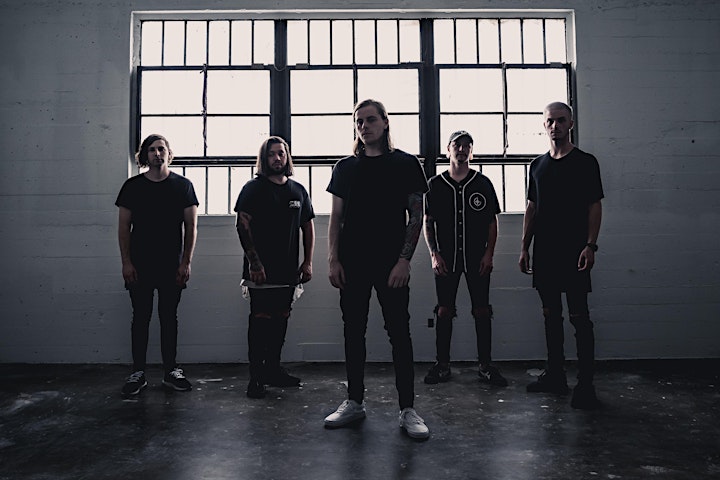 Venue Information:
The Glass House
200 West 2nd St
Pomona, CA, 91766