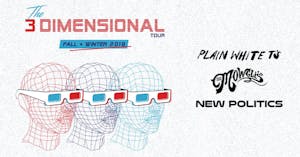 Plain White T's
New Politics
The Glass House
Pomona
,
CA
$30.00 - $149.00
Canceled
THE 3 DIMENSIONAL TOUR - CANCELED
Unfortunately the 3-Dimensional Tour will not be stopping here at The Glass House Pomona on 11.21.19. Refunds will be available at point of purchase and tickets are also available for the Los Angeles stop on 11.20.19.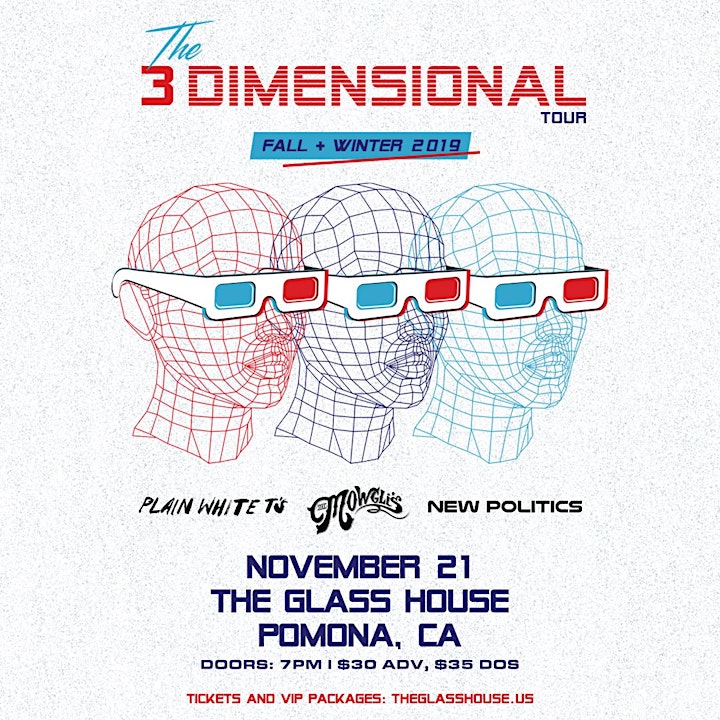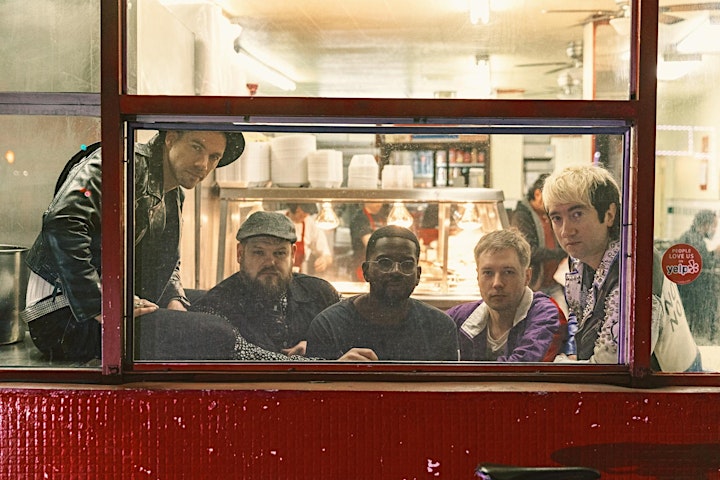 Time and space didn't necessarily bend,but The Plain White T's certainly found what might be an alternate reality on their eighth full-lengthofferingand return to Fearless Records, Parallel Universe.Of course, the band'sendlessly hummable signature melodies still shine at the center of this galaxy, but theirUniversemorphed into an otherworldly atmosphere of ethereal electronic pop strengthenedby lush guitar tones and synth transmissions. Questions mostdefinitelywillarise...Is ithuman orrobot? Is it of this world or isn't it? Was it born in 1980 or 2020? Either way, frontman Tom Higgenson assures, "It's The T's.""But it's also kind of not," he grins. "It goes right along with the sound we've had for twenty years, but it's a little bit different. It's what you know, but it's fresh at the same time.That's why Parallel Universewas such a perfect title. To be honest,this is the first recordwhere we were like, 'Fuck whatever we were or people might think we are. This is what we love rightnow.'We didn't have to compete with anybody but ourselves. We just decided to make the best musicwe possibly could."Given theiraccomplishments to date, itmight seem like a tall order. Since emerging in 1997, theGRAMMY®Award-nominated multiplatinumChicago quintet—Higgenson [vocals], Tim Lopez [lead guitar, vocals], Dave Tirio [rhythm guitar], Mike Retondo [bass], and De'Mar Hamilton [drums]—has amassed an enduring, engaging, and enigmaticcatalog, spanning two gold-certified offeringsAll That We Needed(2005) and Every Second Counts(2006)andunshakable anthems such as the double-platinum "1,2,3,4" and platinum "Rhythm of Love." Among thediscography, "Hey There Delilah" went quadruple-platinum, topped the Billboard Hot 100, and earned a pair of 2008 GRAMMY®Award nominations in the categories of "Song of the Year" and "Best Pop Performance by a Duo or Group with Vocal." Along the way, the five-piecelogged countless miles on the road infront of sold out crowds in nearly every corner of the globe. After a whirlwind tour cycle supporting 2015's American Nights, the guys hunkered down and began writing theideasthat would eventually comprise Parallel Universe.Following successful 2017 writing sessions in Nashville with longtime collaborator Chris Tompkins [Carrie Underwood, Florida Georgia Line] and new friend Brandon Day[Big & Rich], Tom and Tim decided to rejoin Day in Malibu, CA for a follow-up which sparked an undeniable chemistry and led to five songs being written in five days.The first single "Your Body" illuminates said chemistry. Fusing minimal glitchyblips, lithe guitars, and an unshakable hook, it cracks open thealbum'sworld for the group as Tom croons, "I don't know no body, like I know your body.""A lot of the songs look at love and life from a different perspective," he elaborates. "This one is about a girl who I probably know more than anybody else on the whole planet, yet we're not really together. When I see her dating other dudes, I chuckle in my head, because I know this guy won't know her like I know her. I'm the reigning champion of her love life. I don't know anyone's body like I know hers. It's a clever lyrical take."The effervescent "Light Up The Room" provesbright and brilliant with its danceable grooves and massive refrain. "Musically, it's something we haven't done," says Tom. "Lyrically, it hints at a sci-fi theme. It's got that line,'Wearing rings like she was Saturn.'It's really vivid.""Bury Me" tempers warm production and a hypnotic harmony for what he describes as, "the most romantic song here...but it's a little twisted. Is it bury me in blankets? Is it bury me sexually into you? Is it bury me because you lose yourself when you love someone?"Then, there's "Call Me." It hinges on stacked future-facing beats and a wild drop before giving way to the lovelorn question, "When you gonna call me?""I dated this girl briefly in Malibu," he recalls. "It was a very healthy, yet unhealthy love-fast, burn-out hard thing. I channeled that feeling."The vocoder-driven "End of the World" shuffles into a funkyverse highlighted by lyrics like, "I found Jesus the other day, he was eating hamburgers in a Chevrolet"—inspired by a brilliant, yet undiscovered A&R mind..."That was myeight-year-oldson's idea," laughs Tom. "Before I left to Malibu, I asked him what to write about. He thought for a second and said, 'Jesus,'before adding, 'Hamburgers.'My mom told me he'd been talking about it all week, so she asked if I'd written it yet. I was like, 'No, what the hell kind of song is that going to be?' Turns out, it was one of my favorites! The last day, I grabbed my acoustic guitar, and it just happened. Some lines related to the state of the world, but it's a really beautiful moment for all of us on the album."In the end, those kinds of moments define Parallel Universe. For as much as it might looka little different, it's The Plain White T's throughand through."We set out to create something that made us happy, and we did," Tom leaves off. "We didn't worry about expectations. We just did something different. We shook everything up. Not everything has to be a pretty Instagram filter. We weren't afraid to get raw for the first time. The Plain White T's mean everything to me.With the new record,I'm as stoked as I was 15 years ago when we firststartedputting out records."–Rick Florino, April 2018
Formed in 2010 by the coalescing of a Venice music collective The Mowgli's began as a 10+ member group playing house parties and warehouse gatherings. Their major label debut LP, 2013's Waiting For The Dawn, saw immediate success with the hit single San Francisco. The record - which focused on the joy of bringing people together - immediately connected in a cynical world and the band quickly found themselves playing to sold out clubs around the US and inundated by requests for press, sponsorships and partnerships. Appearances at Bonnaroo, Lollapalooza, Firefly, Osheaga, Bottlerock and many other festivals followed as did performances on The Tonight Show, Jimmy Kimmel Live, Conan and a stint as the SXSW House band for Andy Cohen's Watch What Happens Live (Bravo). The follow up LP, 2015's Kids in Love (which spawned the feel-good single "I'm Good") and their third LP Where'd Your Weekend Go? which came in the Fall of 2016 continued to build the band's reputation for uplifting alternative pop. Throughout it all, touring has been the essence of the group. Known for inclusive, powerful performances, they've crisscrossed the US more times than they remember, mostly headlining shows but occasionally as support for bands including Manchester Orchestra, The Maine and Walk The Moon. They've played for the US military in Honduras and Guantanamo Bay and been a chosen favorite of brands ranging from Abercrombie to Intel, Dunkin to Budweiser. Now independent, and half of their original size, The Mowgli's released back-to-back EPs I Was Starting To Wonder and American Feelings in the past year, which have produced one of their biggest songs to date in Kansas City. They also wrote and performed the title song to Disney's #1 animated show, Big City Greens. Always with a mission to bring hope and positivity into the world, The Mowgli's have been involved with numerous charities including The IRC, Heal The Bay, Happy Bottoms and many food banks and homeless shelters.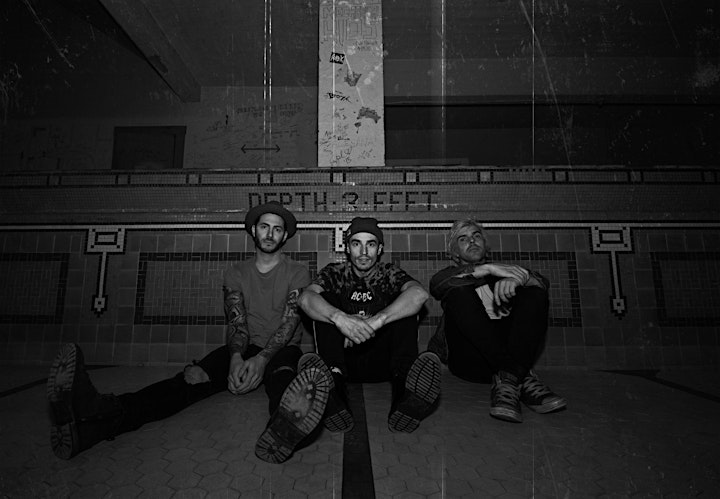 Venue Information:
The Glass House
200 West 2nd St
Pomona, CA, 91766